A story of an older man, grief, and tomatoes.
HUMANS OF DUBLIN is a photography project run by Peter Varga and inspired by the famous Humans of New York Facebook page.
On Monday, the page posted this photo of an older man named Bill. Sitting on Dun Laoghaire pier, Bill shared a deeply personal story.
In the back garden we used to grow tomato plants, but she died about 18 months ago so I stopped growing them. She was a month younger than me, and I was already surprised that she passed away before me, so I was just waiting for my turn.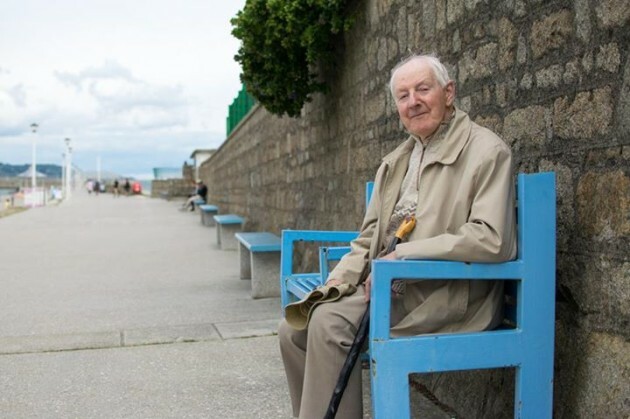 A few months later my neighbours arrived with a box of tomato plants, about 12 little sprouts, and he said they're not giving up on me. I was looking down at these little sprouts and thinking how the hell I'm going to plant them if I can't even bend down anymore. Anyway, I thought I'd give it a try! I spend half the day in the glasshouse planting them. They're about 16 inches high now, and the tomatoes are beautiful on them. I started to grow these new ones as well, what do you call them? Cherry tomatoes…To be honest with you, I didn't think I'd see Dun Laoghaire harbour again, but my son and his wife forced me out here. They went for a walk, but they bought me a tea and an ice cream, and now that I'm here, I feel happy.
So far, it has been liked more than 22,000 times and shared hundreds more.
Hundreds of people have commented on the post, sharing their own stories of loss and grief.
"It's like reading something my Dad would have said when my mam died," wrote one.
"Your wife would indeed be proud of you and the beautiful tomatoes still growing," added another.
One man wrote: "I'm lucky enough to know Bill (and Anne) well and have done most of my life. Lovely man and a great neighbor."
Many, many people have encouraged him to keep growing the tomatoes. Sometimes the internet can be a beautiful place.
Read the original article on The Journal
Was also covered by Daily Edge, Irish Mirror, Mashable, Irish Central, Her.ie, Lovin Dublin and Evoke.