"I'm eighty-six years old and you know, these rainy days I keep thinking if I could be eighty again… Not thinking about twenty-one or thirty but eighty. I could see him again." 
FOLLOWING IN THE footsteps of Brandon Stanton's hugely popular Humans of New York, photographer Peter Varga has gained notoriety for his Humans of Dublin project.
He takes photos of Dubliners from all walks and talks to them about their lives. They are frequently heart-wrenchingly sad or laugh-out-loud funny and they are always beautiful.
Now he has teamed up with the Dublin2020 campaign as the city competes with four others in the country to be named European Capital of Culture.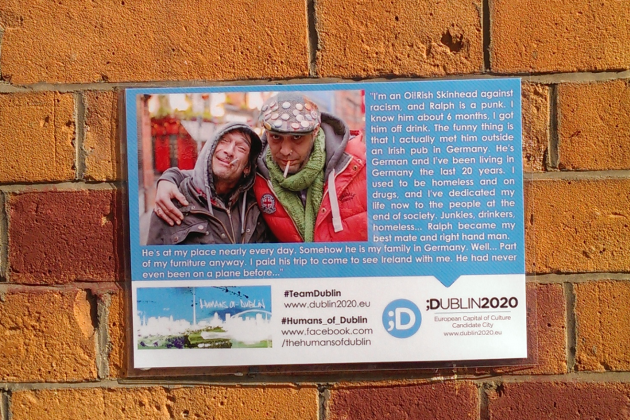 "I'm an [sic] Oi!Rish skinhead against racism and Ralph is a punk. I know him about six months, I got him off drink. The funny thing is that I actually met him outside an Irish pub in Germany. He's German and I've been living in Germany the last 20 years. I used to be homeless and on drugs and I've dedicated my life now to the people at the end of society. Junkies, drinkers, homeless… Ralph became my best mate and right hand man. He's at my place nearly every day. Somehow he is my family in Germany. Well…part of my furniture anyway. I paid his trip to come to see Ireland with me. He had never been on a plane before."
As part of the joint project, some 50 different personal stories have been posted in café's, on walls, in windows and at different sites all around the city for people to enjoy.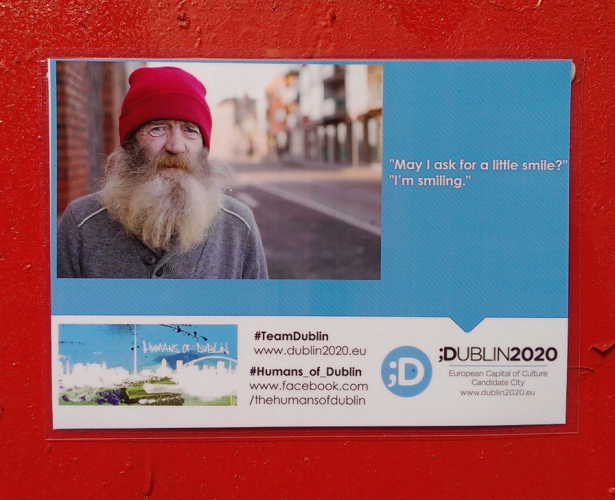 Varga said nine out of ten people he asks to have their picture taken and share their story for the project say yes and "that shows how open they are".
"I hope it helps Dubliners to see how great they are."
The storyboards can be seen in Dublin city and its environs in Clontarf, Fairview, East Wall, Custom House Quay, Cabinteely, Shankhill, Ballybrack, Thomas Street, the Red Luas Line, UCD, Ballsbridge, Lucan, Ranelagh, Rathmines, Rathgar, Dublin City Centre and around Dublin 8.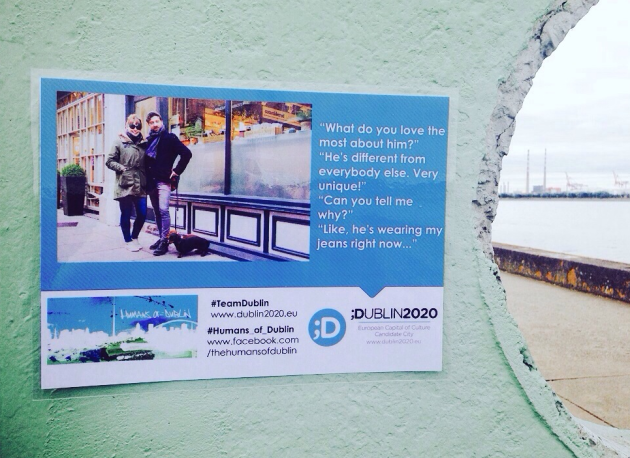 "What do you love the most about him?
He's different from everybody else. Very unique!
Like, he's wearing my jeans right now…" 
Read the original article on  The Journal
Was also covered by Irish Mirror and Lovin Dublin